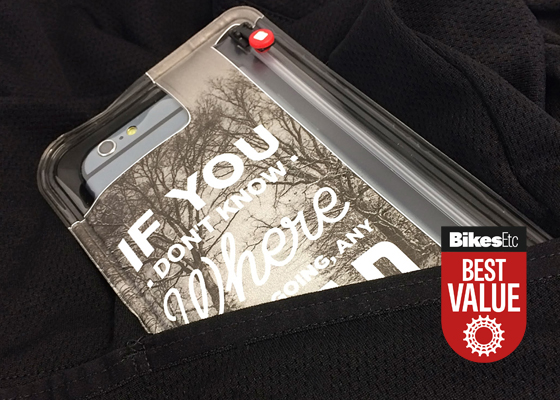 As stated in the November 2015 issue of BikesEtc, jersey pockets aren't the best place for keeping phones, money and cards.
To stop your personal essentials getting bashed or soaked from spray, a wallet is the answer and the pOcpac iPac came out on top in terms of value scoring 8/10 overall in BikesEtc review of pocket pouches. The BikesEtc Best Value award is for the product that may not have the highest overall score in the test – we were pretty close – and it may not be the cheapest, but it will always represent especially good performance at its price.
How did they describe our pOcpac?
There aren't many frills but that keeps the pOcpac light. The water-resistant case is touchscreen-friendly, so you can use your phone without removing it, and the window on the rear let's you use your phone's camera. It has a robust zip and simple internal divider: rather effective. Thank you.
We couldn't have put it better ourselves.